I found a pair of hole filled jeans that my daughter left behind when she left for college while cleaning her room. Yes, I'm that mom that sometimes occasionally appropriates stuff from her older daughters. Hopefully, she won't be upset!  They were the exact type of jeans I had envisioned wearing with my Bandito jacket.
However, I feel a little too self conscious going out in jeans with huge holes at my age. I decided to try the Boro technique to mend my borrowed jeans.
The Japanese mending art known as Boro, meaning tattered rags, originally described the patched and mended cotton bedding and Noragi clothing of the Japanese rural people. Cotton was very expensive, and was only woven in the south or imported. Many rural families weaved their own homespun fabrics from hemp, which was much more rough than cotton. The average working rural family needed to extend the life of their textiles. Sashiko stitches were used to not only decorate the patches, but to give them more strength. It's essentially a method of creating an all new textile by mending an existing one by patching little pieces of fabric over worn out areas of cloth. Creating art and utility out of something that would be discarded otherwise.
Duvet cover from 1800's as seen on Kimonoboy.
Traditionally, the Japanese used Boro methods to mend fisherman's coats, futon covers, Noragi clothing  and other everyday items. Often the entire mended textile was indigo dyed as well. The key to making lovely Boro is to have uniform stitches and that takes practice. But even mistakes, can add to the charm of a piece.
I thought it would be simple to do, but my own stitches have a way to go.
Below, I'm listing some beautiful examples of the Boro mending method to inspire you in your sewing. Perhaps you can save some of your own jeans or even your kids jeans while making them look pretty cool at the same time!
Please pin images from the original source listed under the photo, and not from my blog.  Thanks.
The Japanese menswear clothing line Kapital, takes it's name from the Japanese city of Kojima which has become the Denim Capital of Japan. They've melded a traditional American denim heritage look with the traditional Japanese art of Boro.
Detail from a Kapital shirt.
Below is a lovely little cross shaped stitch on some mended jeans.
From Sara Divi
From TRICO FIELD
Ralph Lauren's Denim & supply line is probably one of my favorite fashion lines. It embodies the casual California slightly hippie/ boho/ motorcycle chic vibe I love. So perfect for wearing here where I live, between Los Angeles, Ojai, and Santa Barbara.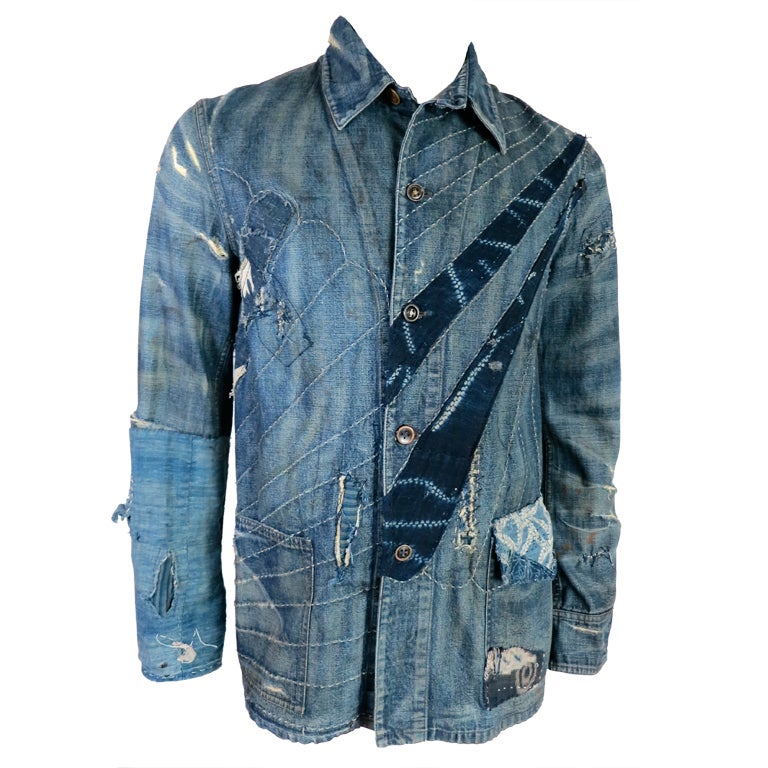 From Ralph Lauren
From Ralph Lauren
Below are two traditional Japanese examples of Boro textiles
From Design Sponge
Do you enjoy mending things?