Welcome to Sew & Tell Saturday!
 I have been away for a couple of weeks because I was participating in the kids clothing design competition
Project Run & Play
and was leaving my post entries up all weekend to steer people over there.
Well, it looks like I have been totally demolished by the competition this weekend. My little
Purple Pumpkin
dress is sadly chugging along in last place.
I won't pretend I'm not disappointed because I thought my little dress made from a white bedsheet was really cute. It's hard to take when no one is voting for your little one in an outfit you made for her! I thought the photo above was fitting for how it feels….
OK, enough of the pity party!
 Should you be curious to see the other entries and to cast your vote you can head
over here
after you post your projects. The voting ends on Sunday night.
I also just wanted to mention a pattern making draft along I will be starting up on November 1. We will be working through Cal Patch's book Design It Yourself Clothes. 
Cal has been gracious enough to make herself available for us and she will be even donating a book for a giveaway! I'm very excited. Stop by Monday to sign up.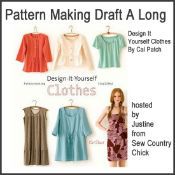 So are you ready to share your projects ? I'm ready to see them!