One of the weekly challenges coming up on
Project Run & Play
is the fashion icon challenge.
Who do I consider to be a fashion icon?
Well, obviously I have a few, but
Gabrielle or "Coco"Chanel has always been a designer  I have admired because she changed fashion.
She was the epitome of classic and chic yet her clothing was known for being very comfortable.
She lived a totally fascinating life .
With the release of Karl Lagerfeld's ultimate coffee table book
The Little Black Jacket
 , I started becoming interesting in learning to make a Chanel style jacket for myself. 
This is one of those projects that is on my Sewing Bucket list.
Do you have a sewing bucket list, too?
So just what is so special about a Chanel jacket? What make a Chanel a Chanel?
A Chanel jacket which retails for 4,700 $
There are many sewing techniques which set a Chanel jacket apart from its copies.
One of the most interesting aspects of a Chanel jacket is that that it is only made from two layers of fabric. There are no other facings or inner linings like hair canvas or interfacings. Actually, fusible interfacings would never be found inside a couture workroom!
The shell or outside of the jacket is often made from an unstable boucle weave. To stabilize the fabric and make it more firm it is often backed by silk charmeuse. The two layers are machine sewn together in long rows in a matching thread color as the outside fabric so you can't see the sewing lines.
Marina from 
Frabjous Couture
 blogs about couture sewing and made her own Chanel jacket blogged
here.
Below is a photo of her jacket with the quilting technique of which I mentioned.
As you can see Marina does beautiful work! Shown here is the chain detail also present in Chanel jackets. The chain helps balance the weight of the jacket, creating a nice drape.
Trim choice is important as Chanel trims are made each by hand to go with each jacket and finding a quality trim can be hard. Some sewists have layered trims to get the right look. The patch pocket is also a
staple of the Chanel jacket. So are the classic Chanel buttons and vented, two piece sleeves. However, you won't find a collar on the Chanel jacket.
Watch the embedded video below for a quick view inside the Paris Chanel workroom:
If you are interested in testing out your sewing skills by making your own Chanel style jacket I would recommend you buy the Vogue Pattern 8804 by Claire Schaeffer. I am going to use it.
Claire Schaeffer is one of the top couture sewing instructors around. I own her book Couture Sewing, and if you are interested in improving your skills, it should be in your library. Her new pattern printed by Vogue takes you step by step through the couture sewing techniques that are required to make an authentic jacket in the style of Ms. Chanel.
Another dream class for me would be the
Classic French Jacket
by Susan Khalje, another couture sewing expert. It is a six day workshop where you make your own pattern, fine tune the fit, and learn all of the couture techniques from the couture master herself.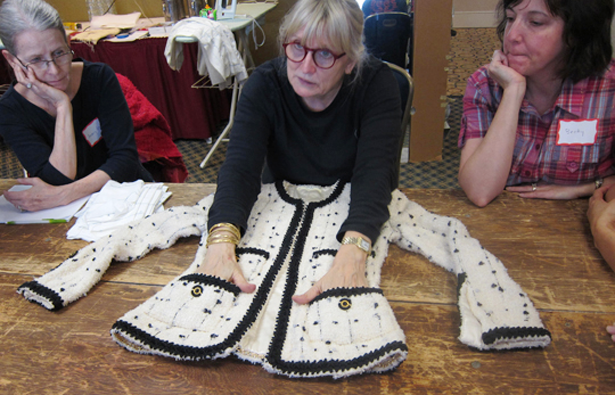 Susan Khalje teaching her Inside a Designer Jacket Class.
As an aside, Ms. Khalje's book, Bridal Couture, is out of print and so sought after that is sells for over 200 hundred dollars online! It is a cult classic. I used it when making Maria's bridal gown and it was priceless. I just so happen to have an extra copy, so if anyone is interested in buying it shoot me an e mail!