When Suzi from Terry's Fabric's, an English home decor fabric shop, contacted me to invite me to try some of their fabrics I thought I would stop over to their website first, to see if anything interested me, because I had never heard of them before. I don't sew a lot of home decor projects and when I do, I usually use vintage fabrics or plain twill. But when I stopped over there, I have to say I fell in love with their English Cottage fabrics! This stuff is right up my alley!
Suzi was kind enough to send me not one but three fabrics to try out and I love them all! Today I am showing you the Pink Bunting fabric in a UNION JACK and rose theme she sent me sewn up in a classic pinafore style. Seriously how British country cottage can you get? I'd love to make some curtains with this fabric!
The pinafore is a vintage staple and there was a time when most little girls had at least one in their closet. I say, let's bring them back! They are so cute either over a long sleeve shirt and leggings in the winter or by themselves in summertime. I drafted this myself from Gigi's sloper, but if you are looking for a pattern to sew up, Tie Dye Diva has one pretty much the same style on Etsy. Or you can look for vintage pinafore  patterns. Here is one below I found on Etsy. This style of reversible button front pinafore was popular in the seventies: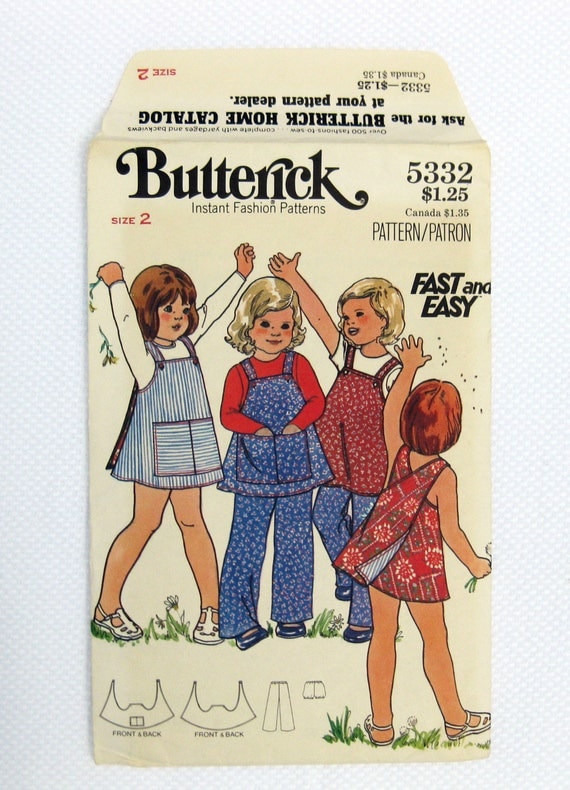 If you like , I can show how to draft your own with a basic sloper in a tutorial. Leave a comment if you are interested.
The lining is attached to the dress. This makes it easier to sew, sort of like sewing a handbag in a way, but I think it might drape better if the lining wasn't sewed to the bottom.